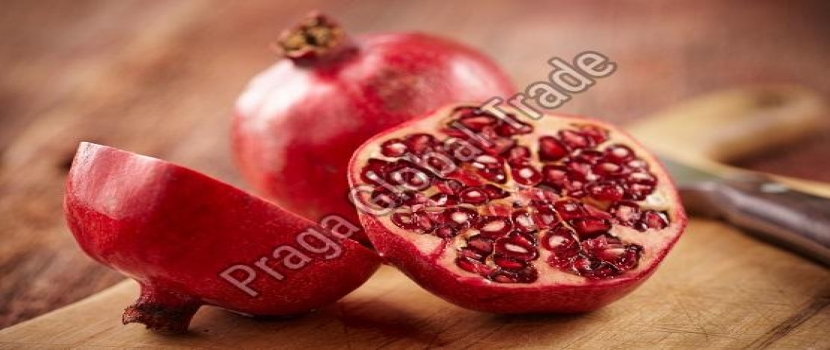 Pomegranate is definitely one of the juiciest and healthiest fruits in the world. It can offer a range of magical benefits to your body and overall health. This is why it is marked as a divine fruit. You can find its mention in almost every theological book.
So, what does it offer? Pomegranate has antiviral, anti-tumor, and antioxidant properties. It makes an incredible source for several essential vitamins including A, C, E, and folic acid. In fact, a piece of pomegranate has more antioxidants than a cup of green tea or a bottle of wine.
Pomegranate fruits are cultivated in different parts of the world, especially in the Middle East and South Africa. Consumption of Fresh Natural Pomegranate daily is essential and beneficial for the human body. Pomegranates are fruit-bearing shrubs of the deciduous category. They generally grow in different seasons in different parts of the world and are supplied in large quantities all over the world by the Fresh Natural Pomegranate Exporters
Uses of the Pomegranate in the Culinary World
The fruit has multiple uses in the culinary world. Its juice which is either sour or sweet with most fruits having a moderate taste is primarily used as a juice. It was previously a popular drink in Europe and the Middle East is now introduced and distributed in America and Canada as a juice because of its health benefits. The thickened juice known as Grenadine Syrup is used in cocktail mixing.
Before the tomato was introduced to the Middle Eastern countries, pomegranate juice, molasses and vinegar were commonly used in Iranian main dishes in the form of a thick sauce made from pomegranate juice and ground walnuts.
Its seeds are used as a spice known as anar dana in Indian and Pakistani cuisine. The ground anar dana gives a deep and tangy flavouring to the dishes. It is also used in trail mixes, granola bars, as a topping and dressing for salads and desserts, yoghurt, ice cream, marinating of meat and in a variety other ways.
Health benefits of fresh natural pomegranates –
Hence, pomegranates help in lowering risks for all kinds of diseases. Thus, any fresh natural pomegranate exporter can do profitable business all through the year. The following are some major benefits of consuming pomegranates on a regular basis.


1. Provides essential nutrients
A cup full of pomegranate seeds includes less sugar and calorie content. It includes more fiber, proteins, folate, potassium, and vitamins C & K.


2. Thins your blood
Antioxidants are blood thinners. Pomegranate juice is helpful against fatal blood clots and coagulation of blood.


3. Prevents atherosclerosis
Due to an unhealthy lifestyle and with age, an increased level of cholesterol results in artery damages. The antioxidant property of this fruit lowers the bad LDL cholesterol level.


4. Acts like an oxygen mask
Pomegranates are helpful in increasing the oxygen level in the blood. Several antioxidants present in this fruit fights cholesterol, free radicals and prevent blood clotting.


5. Prevents arthritis
This fruit fights with the enzymes which are responsible for cartilage damage.


6. Fights erectile dysfunction
Various theories support the quality of pomegranate juice in slowly reducing erectile dysfunction in men.


7. Prevents prostate cancer & heart diseases
The regular intake of pomegranate juice slows down the growth of prostate cancerous cells. Its blood-thinning quality also reduces cardiovascular diseases.


8. Improves memory
Various study results have shown that a daily intake of pomegranate juice can effectively improve visual and verbal memory.


9. Lowers blood pressure
Punicic acid, which is an important component of pomegranate helps in lowering high BP, triglycerides, and cholesterol.


10. Helps with the digestion
Fiber is a very good element for digestion. Due to their hectic lifestyle, everyone is prone to having junk foods every day which lacks the goodness of fiber. Adding green vegetables and fruits such as pomegranate into your daily diet can be good compensation.


11. Boosts immunity
Pomegranate juice has several anti-inflammatory elements that advance its beneficial quotients and acts against multiple immune-related disorders such as osteoarthritis and rheumatoid arthritis.


12. Lowers stress levels
Consuming pomegranate juice lowers psychological stress levels and improves your personal as well as professional life. It actually lowers cortisol levels which is a stress hormone.


13. Stops formation of plaque
Pomegranate juice includes antiplaque compounds which help in improving oral health. In fact, it is a better alternative than mouthwashes including alcohol against plaque.


Note:
Remember to buy an authentic range from the fresh natural pomegranate exporters in India.